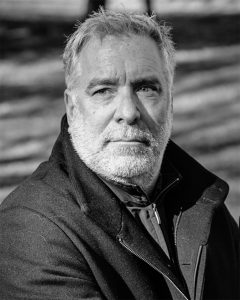 Garreth Stover's credits as Director include three episodes of the CW TV series The Vampire Diaries from 2013-2017. Garreth wrote the script and directed the short film Headlock in 2015 which won Best International Short at PAMA (Paris Arts and Music Awards) and was accepted to ten Film Festivals around the world, including the European Independent Film Festival. Headlock is also currently running on the European Independent Film channel. He also directed second unit for numerous feature films such as Phenomenon, Instinct, Daddy Day Care and American Sweethearts and for the MOW Indecency.
Garreth Stover's extensive credits as Production Designer from 1990 to the present include Christmas with the Kranks and America's Sweethearts (directed by Joe Roth); Big Trouble (dir. Barry Sonnenfeld); Daddy Day Care (dir. Steve Carr); The Kid, Instinct, Phenomenon and While You Were Sleeping (dir. Jon Turtletaub); Unstrung Heroes and Wildflower (dir. Diane Keaton); 13 Going On 30 (dir. Gary Winick); Lost Souls (dir. Janusz Kaminski); and Californication (HBO). Garreth has designed on location in many cities across the United States as well as internationally in Jamaica, Curacao, Russia, France, Portugal and Iceland.
A California native, Garreth Stover studied at Art Center in Pasadena and received a Bachelors Degree of Fine Arts from the University of California in Los Angeles. Garreth went on to do post-Bachelor studies in Biochemistry at Columbia University in New York City before entering the film industry as a camera assistant. He soon transitioned to the art department as a set decorator and then production designer.
Garreth Stover has been featured in "Architectural Digest" and "American Cinematographer". He also co-authored several scientific articles in "Cell" and "Nature".
RESUME
Selected Features:
HALLOWEEN II – The Weinstein Company – Rob Zombie, director
17 AGAIN – New Line Cinema – Burr Steers, director
CHRISTMAS WITH THE KRANKS – Revolution Studios – Joe Roth, director
13 GOING ON 30 – Revolution Studios – Gary Winick, director
DADDY DAY CARE – Revolution Studios – Steve Carr, director
BIG TROUBLE – Touchstone Pictures – Barry Sonnenfeld, director
AMERICA'S SWEETHEARTS – Revolution Studios – Joe Roth, director
THE KID – Chester Films, Inc. – Jon Turteltaub, director
INSTINCT – Spyglass Entertainment – Jon Turteltaub, director
PHENOMENON – Touchstone Pictures – Jon Turteltaub, director
UNSTRUNG HEROES – Hollywood Pictures – Diane Keaton, director
WHILE YOU WERE SLEEPING – Hollywood Pictures – Jon Turteltaub, director
DECEMBER – IRS Media – Gabe Torres, director
Selected Television:
THE VAMPIRE DIARIES (Seasons 1-8) – The CW – various directors
DRUMLINE: A NEW BEAT (TV movie) – Fox Television Studios – Bille Woodruff, director
THE ORIGINALS (Season 1) – The CW – various directors
SUITS (Seasons 2, 3) – USA Network – various directors
RING OF FIRE (TV movie) – Lifetime Television – Allison Anders, director
PRAYERS FOR BOBBY (TV movie) – Lifetime Network – Russell Mulcahy, director
CALIFORNICATION (Season 1) – Showtime – various directors
SMOG (TV movie) – Columbia TriStar – Jon Favreau, director
THE LATE SHIFT (TV movie) – HBO – Betty Thomas, director
DEEP RED (TV movie) – Sci-Fi Channel – Craig R. Baxley, director
BABY BROKERS (TV movie) – NBC – Mimi Leder, director
A FAMILY TORN APART (TV movie) – NBC – Craig R. Baxley, director
CURACAO (TV movie) – Columbia TriStar – Carl Schultz, director
THERE WAS A LITTLE BOY (TV movie) – CBS – Mimi Leder, director
WILDFLOWER (TV movie) – Lifetime Television – Diane Keaton, director
PARENTHOOD (series) – Imagine Television / NBC – various directors